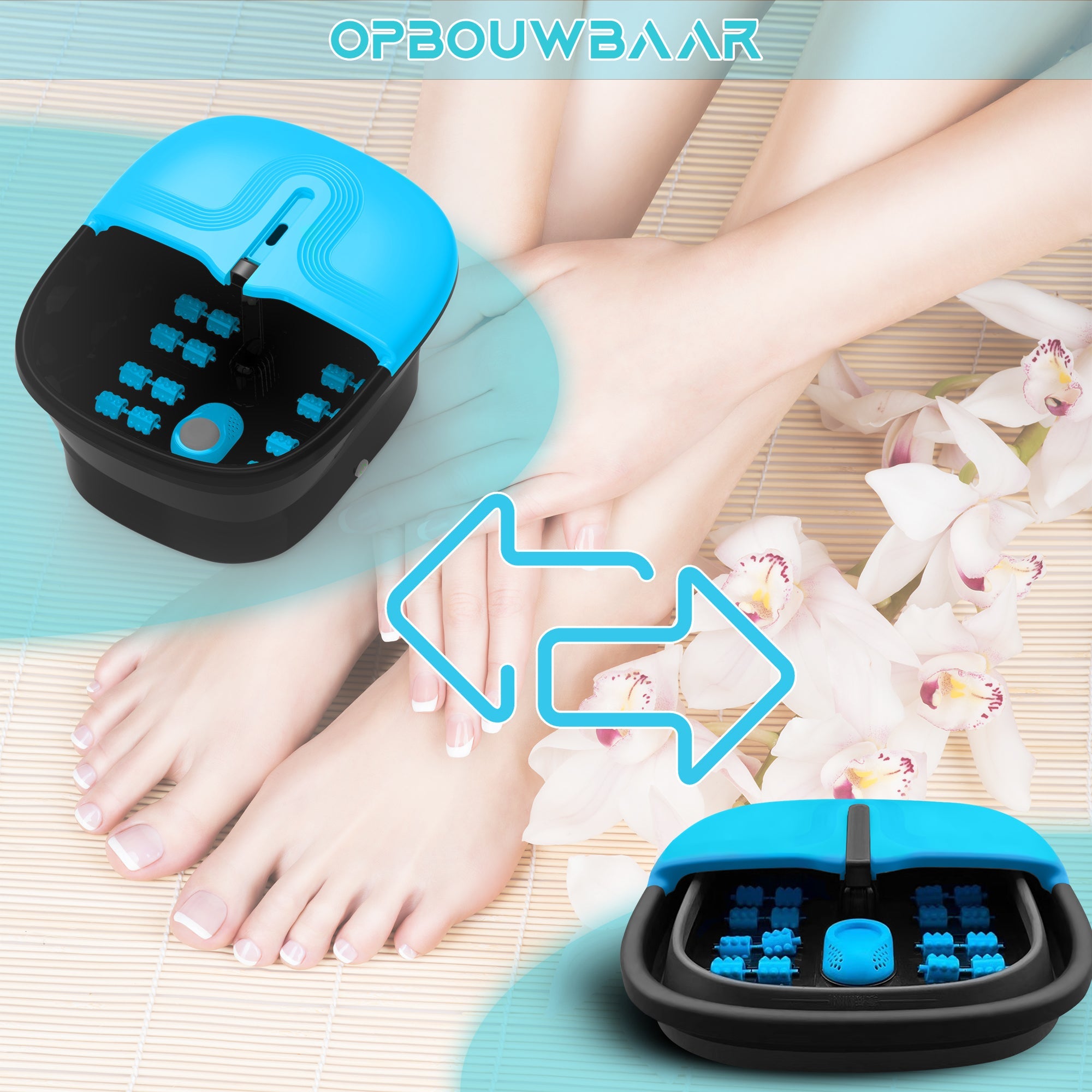 Sanbo Foot Bath F22 PRO Massage function with callus remover - Heated to 49°C - Foldable - 3 massage positions
---
Do you want to experience the luxurious spa feeling at home and save money at the same time? Pamper yourself whenever you want? Do you no longer suffer from cold feet? Enjoy a 100% European Assembled quality guarantee? Then the SANBO F22 Pro Foot Bath is perfect for you!

Experience luxury from home - Compact to store

The SANBO F22 Pro is easy to fill with water and heats up to a temperature of 49 degrees within 10 minutes. With its 3 heat settings, you are assured of the perfect temperature to relax after a long day at work. Choose a temperature between 36 and 49 °C using the supplied remote control and relax wherever and whenever you want! The SANBO F22 Pro is foldable so that it can be easily stored under the sofa or in the cupboard. Maximum comfort and very compact when needed!


8 Shiatsu Wheels - Temperature Control

The 8 Shaitsu Massage wheels ensure that both feet can experience the positive and relaxing effect of Shitsu rollers in its entirety. Choose how intensely you want your feet massaged. Thanks to the temperature control of the SANBO F22 Pro, you don't have to worry about whether the water will cool down or become too hot after a while. You can relax carefree and the temperature control does the rest!



Easy to operate - European Assembled


Thanks to the included remote control, you don't have to bend over or bend over when you want to adjust something in the settings. On the remote control you can set whether you want to use the bubble function of the foot bath, what temperature you want the water of the foot bath to be and you can choose to switch off the foot bath automatically after 30 minutes.




Benefits of using the SANBO F22 Pro

-Improved sleep quality

- Works stress-reducing

-Trigger point Shiatsu Massage

-Perfect temperature



Tested by professionals - For everyone


The SANBO F22 Pro Foot Bath has been developed in collaboration with various massage and shiatsu therapists. All this to ensure that you can relax to the maximum and enjoy a 100% quality guarantee. Various spa and massage parlors are currently using the SANBO F22 Pro!


CE Marking + Home Shopping Guarantee Quality Mark


The SANBO F22 Pro Foot Bath has the mandatory CE Marking and is also provided with the Thuiswinkel Waarborg Quality Mark.
Temperatuur tot 49°C
Met zijn 3 warmtestanden ben jij verzekerd van de perfect temperatuur om lekker tot rust te komen na een lange werkdag. Kies voor een temperatuur tussen de 36 en 49 °C.
Wat zit er in de verpakking?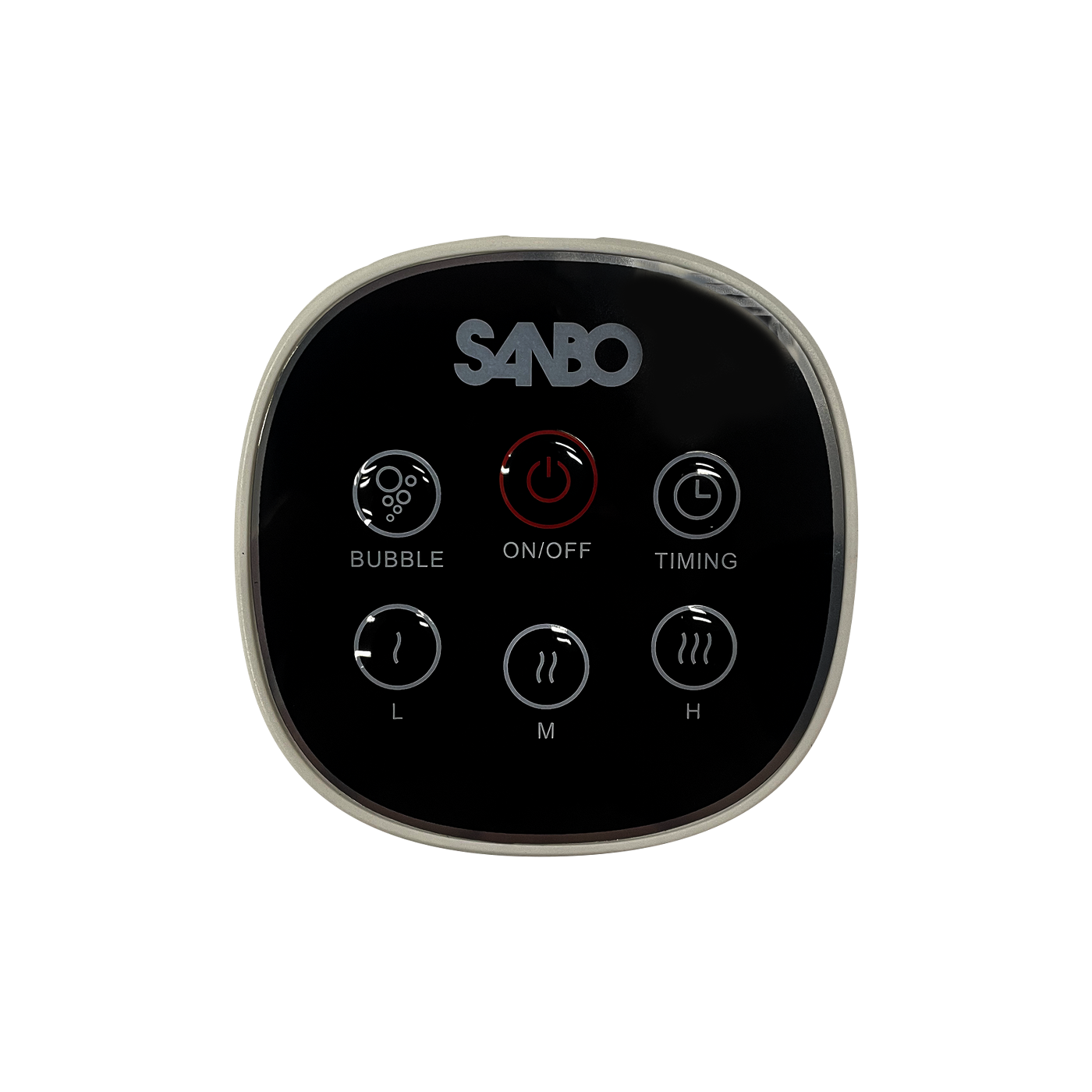 Afstandbediening
Door middel van de meegeleverde afstandsbediening hoef jij niet voorover te buigen of te bukken wanneer jij iets wil aanpassen in de instellingen.
Pedicure steen
De voetpedicure steen is handig voor vele doeleindes, denk hierbij aan: afschilfering tegengaan, eelt verwijderen en een verbeterde uitstraling van de voeten.
Sanbo Voetenbad
Wil jij het luxe spa gevoel thuis ervaren èn tegelijkertijd geld besparen? Jezelf verwennen wanneer jij wil? Geen last meer hebben van koude voeten? Dan is de Sanbo Massage voetenbad een perfect oplossing!
Alles wat je moeten weten over een Voetenbad
De meest gestelde vragen over voetenbaden op een rijtje. Van hoe te gebruiken tot aan
Wat zijn de voordelen van een Voetenbad?

Het gebruik van een Voetenbad heeft tal van voordelen. Wij hebben de belangrijkste voordelen op een rijtje gezet;


Hygiëne en Netheid
Ontspanning en stressverlichting
Hydratatie en huidverzachting
Verbeterde bloedcirculatie
Welke aanvullende elementen zijn er die de voetbadervaring kunnen verbeteren?

We hebben een aantal punten op een rij voor je gezet die de voetbadervaring zou kunnen bevorderen!

Voeten weken in verwarmt water, dit om bacteriën te verwijden, de kans op infecties te verkleinen en de huid zachter te maken.
De mogelijkheid om iets toe te voegen aan het water, bijvoorbeeld Epsom-zout. Deze specifieke keus zou spierpijn kunnen verlichten en ontspanning bevorderen.
De mogelijkheid om aromatherapie toe te passen, Door een paar druppels etherische oliën aan het Voetenbad toe te voegen, kan een aangenaam en rustgevend aroma ontstaan, wat bijdraagt ​​aan ontspanning.
Waar moet ik op letten bij het aanschaffen van een Voetenbad?

Er zijn een aantal punten waar je op moet letten bij het aanschaffen van een Voetenbad. Denk aan:

Grootte en capaciteit
Verwarming en temperatuurregeling
Massage- en bubbelfuncties
Gebruiksgemak en reiniging
Duurzaamheid en kwaliteit
This product has no reviews yet.
This product has no reviews yet.