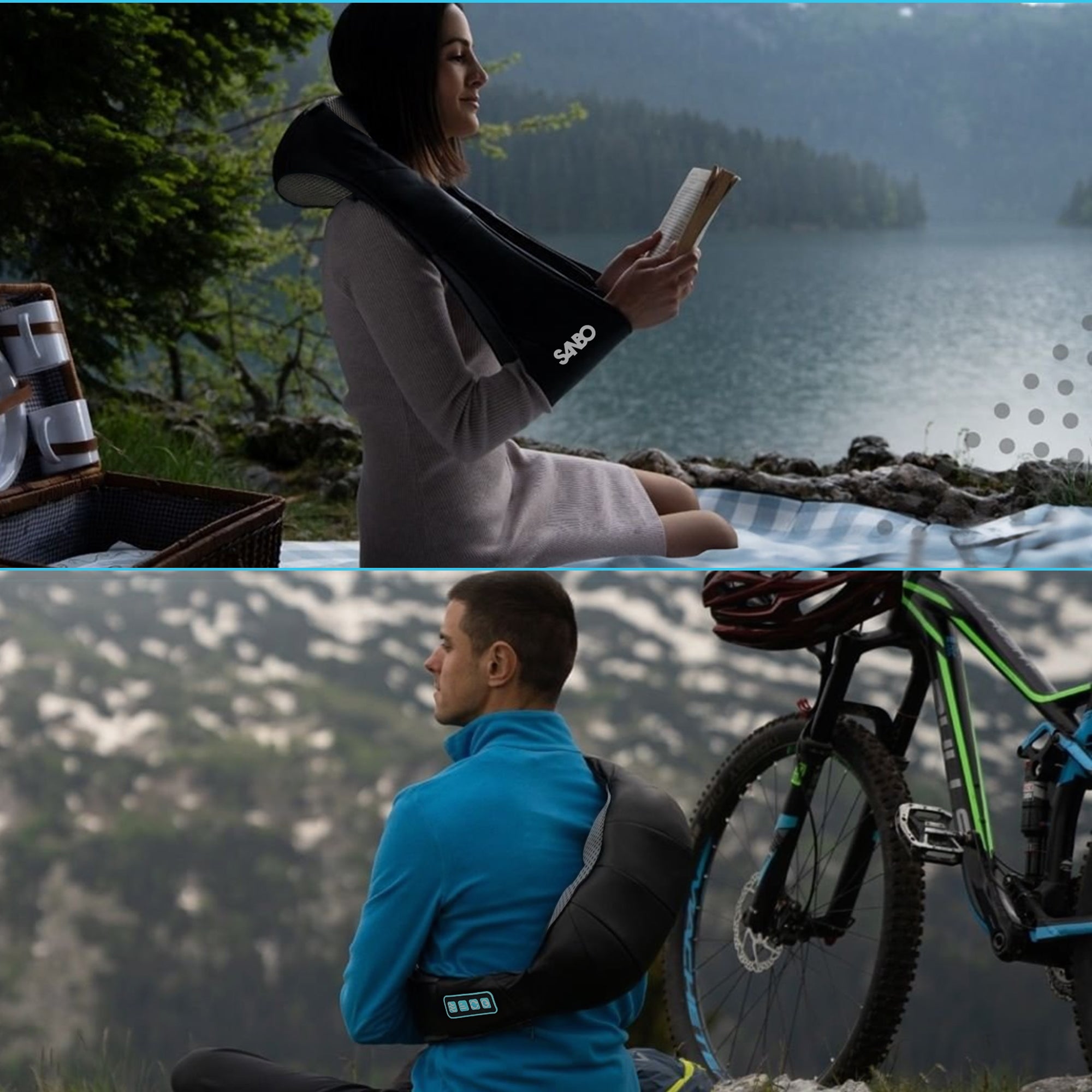 SANBO Shiatsu Neck Massage WL30
---
SANBO Wireless Neck Massager

Enjoy the

SANBO Shiatsu Neck Massage

after a long day at work or after an intense workout

. This device is equipped with 16 rotating Shiatsu massage heads and lets you enjoy a well-deserved neck massage by means of heat/infrared massage. Thanks to the arm loops, you don't have to connect the device to anything and the device can be used completely wirelessly (after charging)! So you don't have to be near a socket during the massage. That makes this

SANBO neck massage

so unique in its category!

Wireless

The unique thing about the

SANBO Shiatsu Neck Massage

is that, unlike other providers, it is completely wireless. You can use the device anywhere, whether at home, while traveling or in the car! The device needs to be charged for 1.5 hours and can then deliver several massage sessions. This way you are not limited to always having a socket nearby!

Warm function

To make the massage even more luxurious, the

SANBO Shiatsu Neck Massage

also has a heat function. This can be set as desired by the user!

Off after 15 minutes

Of course you should enjoy your massage, but overloading should of course be avoided! A massage is essential for your relaxation and recovery, but an overload of the muscles can soon have nasty consequences. To prevent this, the

SANBO Neck Massager

has

an automatic switch-off function. This way you are protected against muscle overload at all times. Finally, this also ensures that the device cannot overheat. Of course, the massage cushion is protected against overheating and the smart technology will switch itself off if that threatens to happen. If you fall asleep from relaxation, you are of course safe and protected.

Ease of use + Multiple muscle groups

Thanks to the flexibility of this

SANBO Shitasu neck massager

, the device can be used on multiple muscle groups! The massage heads are flexible and rollable, so the massage device can also be used on the lower back, shoulders, abdomen and legs! Finally, the arm loops make it extra easy to use the massager! Thanks to these loops, you don't have to attach the device to anything and you can do other activities while enjoying your massage!

Specifications

✔ Recognized massage brand: SANBO

✔ CE & RoHS Certificates

✔ Wireless

✔ Including charging cable

✔ Material: PolyUrethane Leather

✔ Number of massage heads: 16

✔ Protected against overheating

✔ Protected against (muscle) overload

✔ Weight: 1.6kg

✔ Charging time: Average 1.5 hours

✔ Color: Black and Gray

✔ Variable Intensity: Yes

✔ Suitable for: Neck, shoulders, (lower) back, legs and abdomen

✔ Heat function: Yes

✔ Massage Type: Shiatsu Massage

✔ Battery: 2600Mha

✔ 24W, 12V & 50HZ

Contents box
1 X SANBO Shiatsu Neck Massager
1 X Universal Adapter
1 X Car adaptor
1 X User Manual

CAUTION: Do not use this device for more than 30 minutes a day & no longer than 15 minutes at a stretch!
Infrarood
Maak gebruik van de warmtefunctie
De infraroodfunctionaliteit in een nekmassageapparaat verwijst naar de integratie van infraroodtechnologie in het apparaat om extra therapeutische voordelen te bieden tijdens de massage-ervaring.
Auto-off
Voorkom overbelasting
De nek is een gevoelig gebied met belangrijke structuren zoals het ruggenmerg, zenuwen, bloedvaten en lymfeklieren. Dankzij de Auto-off functie voorkom je kans op overbelasting.
Alles wat je moeten weten over een Nekmassage apparaat;
De meest gestelde vragen over de Nekmassager op een rijtje. Van hoe te gebruiken tot aan
Hoe werkt de Nekmassager om spierspanning te verlichten en pijn te verminderen?

Nekmassageapparaten maken vaak gebruik van mechanische componenten, zoals roterende knopen of kneedmechanismen. Deze mechanismen oefenen druk en beweging uit op de spieren in de nek, waardoor een masserend effect ontstaat.
Wat zijn de belangrijkste kenmerken en functionaliteiten van de Nekmassager?

Nekmassageapparaten worden vaak geleverd met een reeks functies en functionaliteiten die zijn ontworpen om de massage-ervaring te verbeteren en tegemoet te komen aan individuele voorkeuren. We hebben er een aantal voor je op een rijtje gezet:

Instelbare intensiteitsniveaus
Warmte therapie
Infrarood therapie
Draagbaar en lichtgewicht ontwerp
Oplaadbaar en draadloos
This product has no reviews yet.
This product has no reviews yet.