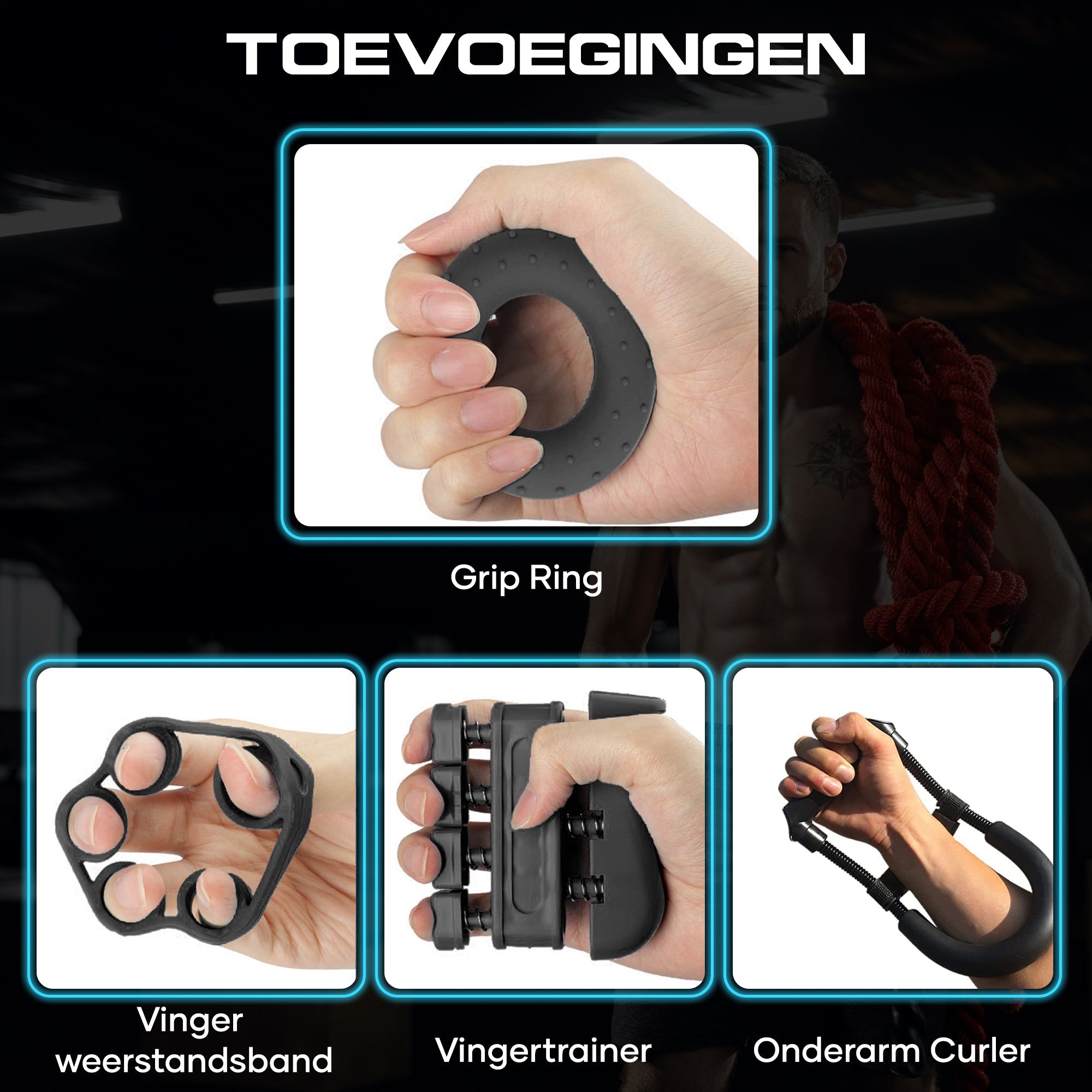 Sanbo Handtrainer Set - Incl. Onderarm Trainer
---
Wil jij jouw onderarmen afzonderlijk trainen waar en wanneer jij wil? Jouw lifts in de sportschool verbeteren? Blessures voorkomen? Dan is de Sanbo Handtrainer set perfect geschikt voor jou! De Sanbo Handtrainer set is speciaal ontworpen en samengesteld in combinatie met Fysiotherapeuten en geassembleerd in Europa!

 

Alles wat je nodig hebt in één set 

Het laatste wat je wil is een incomplete set ontvangen waarmee jij maar een deel van jouw onderarmen traint. In deze 5-delige set krijg jij de volgende onderdelen:

Sanbo Griptrainer (met rep-counter)
Onderarm curler
Vinger weerstandsband
Vinger trainer
Grip ring

Met deze 5-delige set heb jij alles in huis om jouw gripstrenght naar een volgend niveau te tillen.

Voordelen:

✓ Alles-in-1 set
✓ Inclusief Onderarm-curler t.w.v. € 12,99
✓ Eenvoudig in gebruik
✓ Gratis E-Book
✓ Geschikt voor alle leeftijden
✓ Toegang tot de Sanbo App met video uitleg en handige oefeningen

Geschikt voor revalidatie - In combinatie met fysiotherapeuten

Sanbo staat nauw in contact met fysiotherapeuten in heel Nederland en België. Zo hebben wij o.a. onze Massageguns en Weerstandsbanden ontworpen in combinatie met professional. Met als doel het best mogelijke product aan te bieden. Daar komt nu een productcategorie bij:

De Sanbo Handtrainer is door onze nauwe samenwerking met fysiotherapeuten in heel Nederland en België de perfecte revalidatietool voor mensen die kampen met o.a. artritis, tennis en golf elleboog(en), RSI en fracturen. Door gebruik te maken van de Sanbo Handtrainer set wordt de bloedcirculatie in de omgeving bevorderd en worden spieren op kracht gebracht.

Specificaties

Merk: Sanbo
Aantal onderdelen: 5
Fabrieksgarantie: 2 jaar
Inclusief Sanbo opbergzakje

Kwaliteit gegarandeerd

Bij Sanbo gaan we voor de beste kwaliteit en een tevredenheidsgarantie van 100%. Heb je nog vragen? Neem gerust contact met ons op via bol.com en we helpen je graag verder!
40%
Penetrate deeper into the muscle
Penetrate up to 40% deeper into the muscle than the competition with the SANBO Massage Gun Prime.
3600RPM
Stimulates blood circulation and promotes recovery
Promote muscle recovery through increased blood circulation so that waste products can be easily removed.
Compare the SANBO Massage Guns
Product specifications
Compare the SANBO Prime with all other SANBO Massage Guns.
Attachments Massage Gun Prime
The SANBO Massage Gun Prime comes standard with 5 attachments. With the attachments below you have everything you need to have your entire body recover in the best possible way.
Roundball
The Round Ball is the most famous attachment for the Massage Gun. With an intensity level of 5, it can perfectly serve almost any muscle group.
Dampener
The dampener attachment can be used perfectly for sensitive muscles. With a low intensity level, this attachment ensures good blood flow to the muscle without applying "deep tissue" massage.
The attachment is also perfect for places where bones are close to the skin, such as the forearm.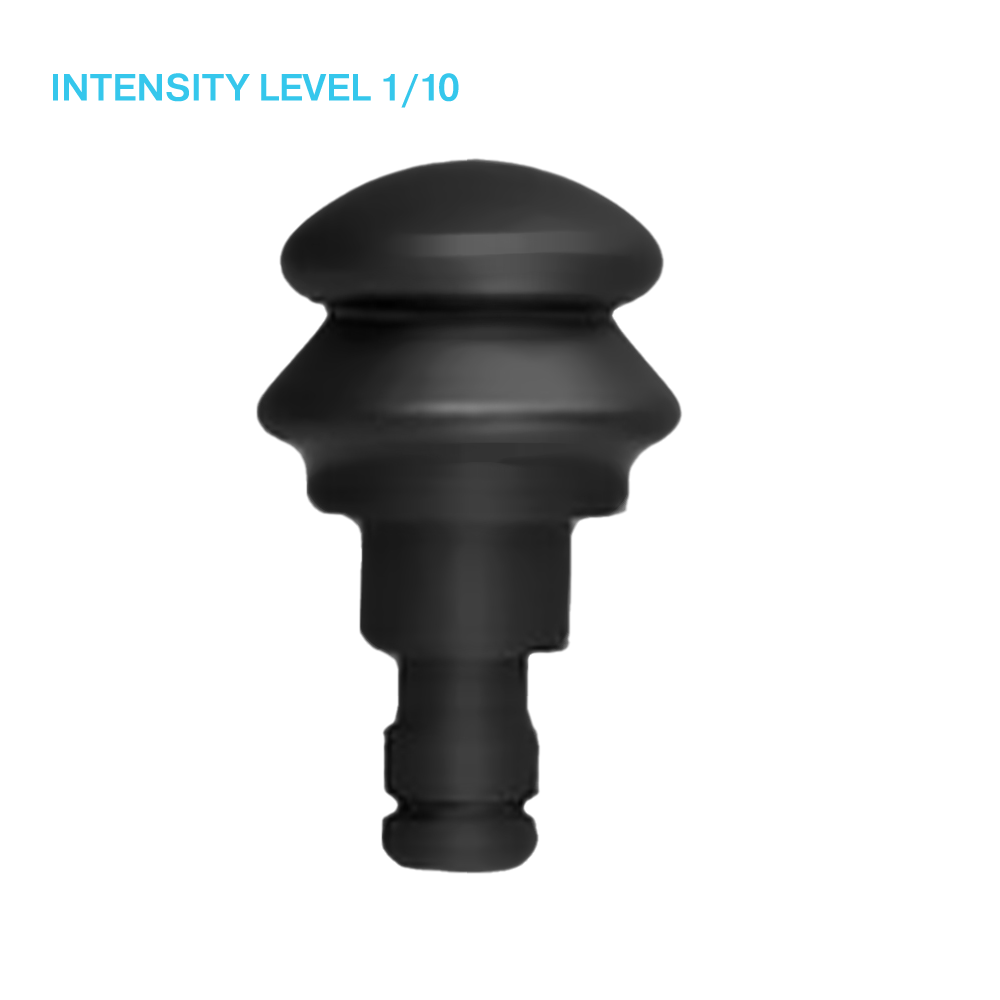 airplug
The Air Plug is suitable for all muscles. Because the Air Plug head is a kind of rubber cushion, you don't have to worry about massaging your muscles too hard. To penetrate deeper into the muscle, we recommend using an attachment with a higher "intensity level"!
U-Fork
The U Fork attachment is perfect for massaging your vertebrae, neck, calves and shoulders. Due to its design, this attachment ensures minimal stress on the bones.

With this attachment you can massage deep into the muscle and simulate "deep tissue" massage.
Bullet
Just like the Finger attachment, the Bullet attachment can be used perfectly to apply "deep tissue" massage. The advantage of the Bullet attachment compared to the Finger attachment is that it penetrates a (painful) muscle more accurately. This allows you to precisely target the painful spot without hitting the surrounding muscles. Please note that after a session with the Bullet attachment, the muscle can feel broken. This is normal and usually disappears after 1 day.
Everything you need to know about a Massage Gun.
Everything you need to know about a Massage Gun;
The most frequently asked questions about Massage Guns at a glance. From how to use to
What are the benefits of a Massage Gun?

Using a massage gun has many advantages. We have listed the most important advantages;


Accelerates recovery and reduces muscle soreness
Improved flexibility
Prevents injuries
Increases maximum force output (1RM)
Reduces stress and muscle tension
What should I pay attention to when buying a Massage Gun?

The most important thing is that you look closely at the depth and RPM of the Massage Gun. In general, the more muscular or heavier people need a Massage Gun with a minimum of 14mm Amplitude. Because otherwise it is not possible to penetrate deep enough into the muscle.
What is the difference between the Prime, Elite and Pro?

Check out the diagram above to see the differences between the SANBO Massage Gun Prime, Elite and Pro.
What makes a SANBO Massage Gun different from a cheaper model?

Cheap models of massage guns are not officially massage guns, but vibration devices. A cheap massage gun does not massage the muscle but "beats" the skin.

In addition, the quality, battery life and service of these parties is very poor.
This product has no reviews yet.
This product has no reviews yet.