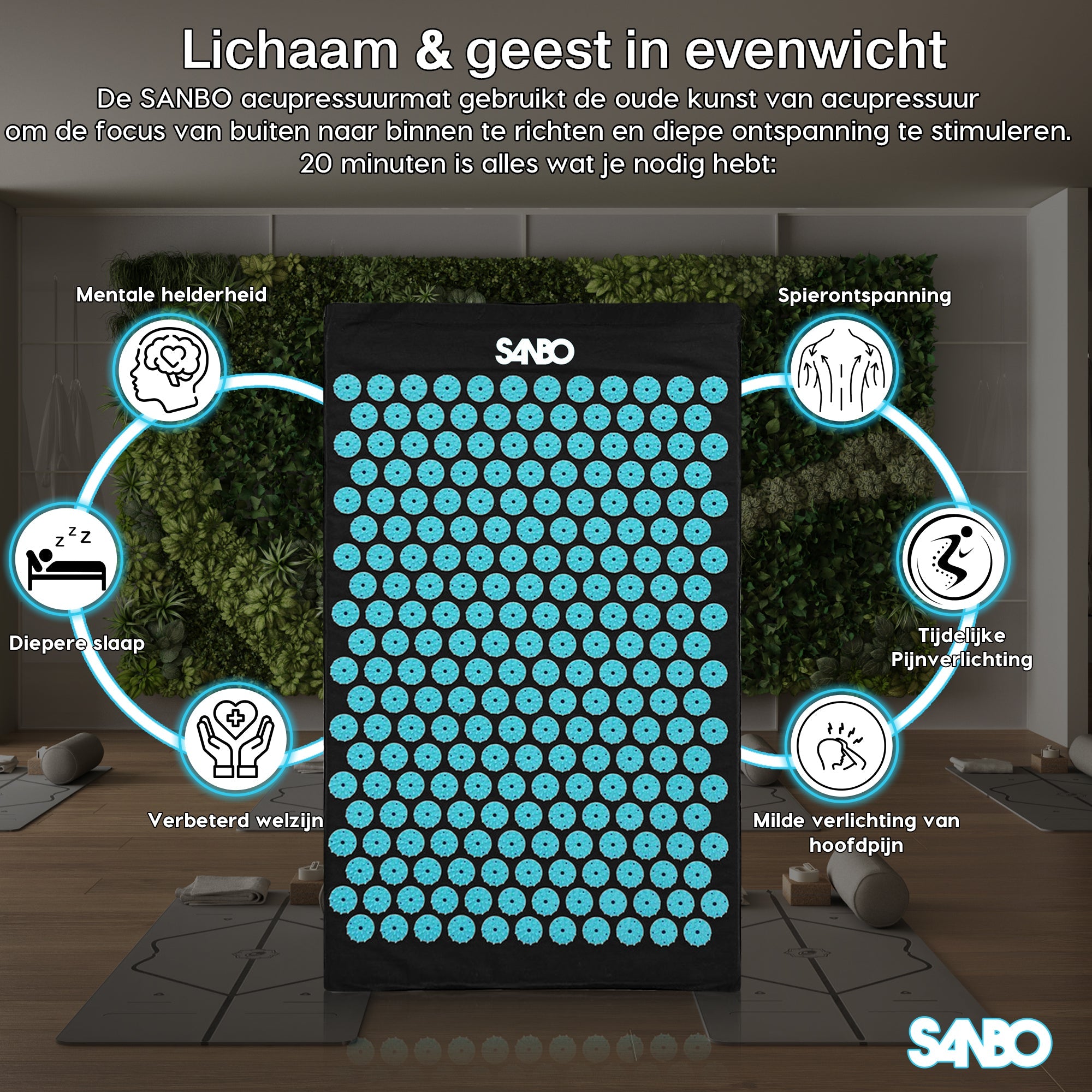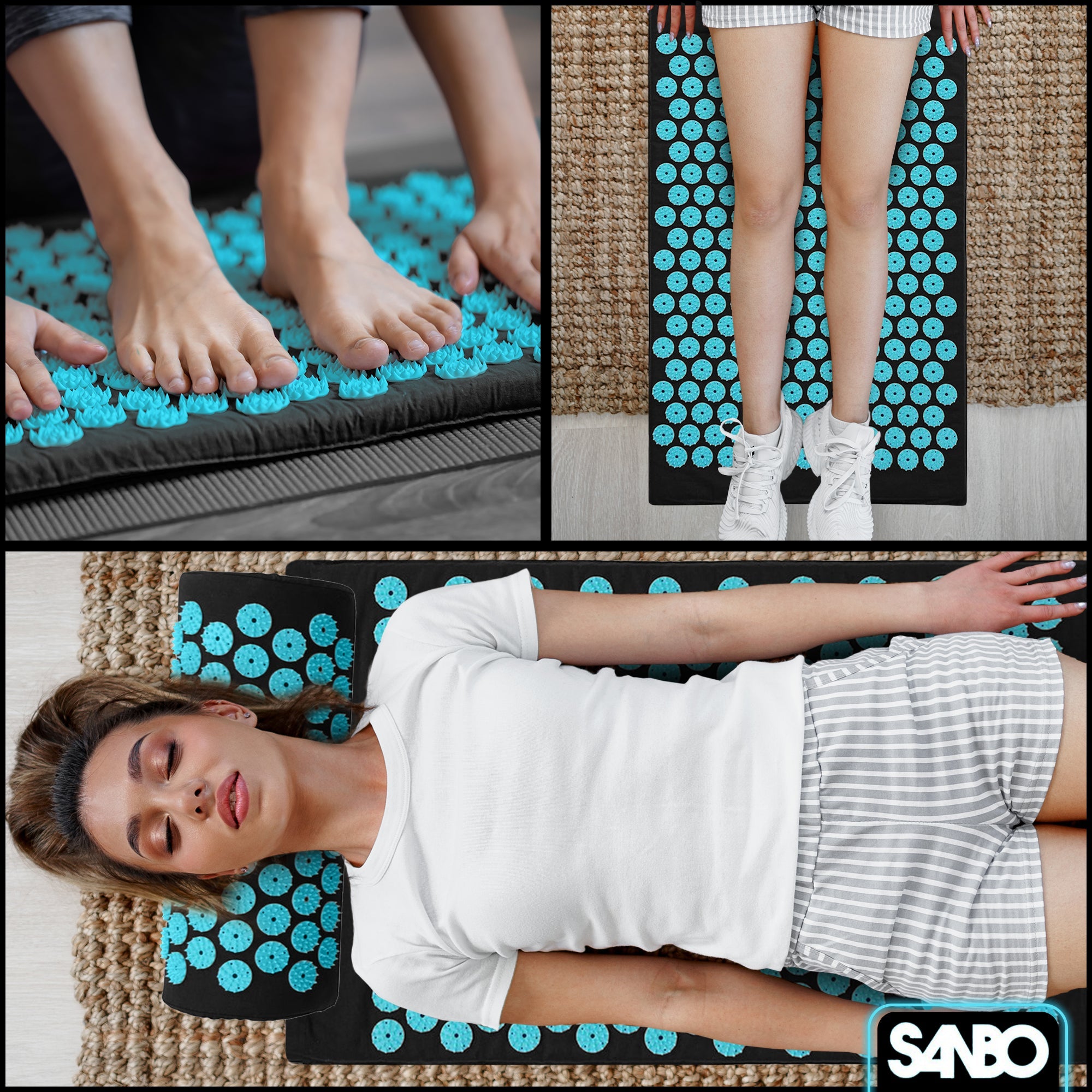 Sanbo Acupressure Mat with Cushion - 68x42x2cm - 2x Trigger Point Ball
---
Do you want to relax, reduce stress, let your body relax completely and promote the body's natural recovery process? Then the SANBO acupressure mat is perfect for you!

Through the 9,840 pressure points on the unique SANBO nail pads you can enjoy all the benefits of acupressure massage without having to go to a therapist. The trigger point balls supplied for free ensure that difficult places are easily accessible and you can get the most out of your acupressure session. Use the mat for 15-20 minutes a day and experience all the benefits!

Designed in conjunction with professionals
The SANBO acupressure mat has been designed in consultation with various Dutch therapists and aims to let you experience why pressure point and acupressure therapy has been used worldwide for hundreds of years.

The SANBO acupressure mat contains 250 nail pads, each with 30 acupressure points. There are 78 of these nail pads on the supplied cushion. Together, the SANBO acupressure mat has 9,840 pressure points! For hard-to-reach places, the two included Triggerpoint balls can be used. Perfectly suited for the legs, elbows, back and feet.

The many advantages:
Natural pain reduction
One of the greatest benefits of acupressure is that it is a natural form of pain relief. Because blood flow is improved and endorphins are released in the body, a large part of the "pain ailments" are removed.

Lowers high blood pressure
Several studies have shown that using the acupressure mat in 20-30 minute sessions 5 to 7 days a week contributes to lowering blood pressure by over 10%.

Relieves stress
Although it seems to be a painful experience for most users at first glance, many people experience lying on the SANBO acupressure mat as soothing and stress-reducing.

Promotes recovery
Acupressure therapy increases blood flow in the body. Due to the increased blood flow, waste products are removed faster and the body can absorb nutrients better. This has a promoting effect on the recovery of, for example, muscle pain, but also inflammation and chronic complaints.




100% Durable and safe to use
The SANBO acupressure mat is made of 100% cotton and is assembled in Europe. The fabric feels comfortable on the skin and prevents irritations. The mat contains a unique layer of "21D foam" which contributes to the comfort. The nail pads with acupressure pressure points are made of skin-friendly ABS plastic.




Specifications:

▶ Brand: SANBO
▶ Package contents: 1x Acupressure mat - 1x manual - 1x pillow - 2x massage ball - 1x carrying bag
▶Material: 100% cotton, foam, ABS plastic
▶ Color: Black / Blue
▶ Mat size: 68cm x 42cm x 2cm
▶ Weight: 685g
▶Number of Pads: Mat: 250 | Cushion: 78
▶ Number of pressure points per pad: 30
▶ Total number of pressure points: 9,840
▶ Suitable for: Adults and children over 14 years old
▶ Machine washable: No, only hand washable

Sanbo Acupressure Mat with Cushion - Denim Mat Incl. 2x Trigger Point Ball - Carrying Bag - 68x42x2cm
9 out of 10
Users experience positive effects
9 out of 10 users indicate that acupressure therapy relieves complaints, improves mood and reduces stress.
Inclusive
Pillow and Trigger Point balls
Get a ready-made package and experience the many benefits of acupressure therapy tomorrow!
Everything you need to know about an Acupressure mat.
The most frequently asked questions about Acupressure mats at a glance.
What are the benefits of using an acupressure mat?

Using an acupressure mat has many benefits. We have listed the most important advantages;


Increases your energy level.
Helps against stress, muscle pain and joint pain.
Improves your immune system and blood circulation.
Stimulates the production of the happiness hormone endorphins and oxytocin.
Helps improve your night's sleep.
What should I pay attention to when buying an Acupressure mat?

The most important thing is that you look closely at the supplier and look at the amount of spikes present. It is also important to look at the quality of the spikes and the mat.

Some manufacturers use cheap material, which makes mimicking acupressure almost impossible.
This product has no reviews yet.
This product has no reviews yet.